Have you experienced the Power of Morning Rituals?
A couple of years ago, I took a course by Eben Pagan, called Wake Up Productive.
In the course, I learned how powerful it is to have a morning ritual to start your day off on the right foot. I developed my own personal morning ritual and started to put it into practice. What I found, was that when I followed my ritual, I got a lot more done in less time than if I just started the day with no plan and by checking my email.
I used this morning ritual for a while, but then, for some reason, I stopped doing it regularly and my productivity also started to drop. I have since then not been using my morning ritual on a regular basis, but just some days ago, I got really inspired to get back into it.
I realize that it is something I have been missing, because it create a foundation and structure for my work days, but also to regain the productivity I once had.
I have now decided to get back into my morning ritual because it is something that can double my productivity, and that is something I would definitely like right now.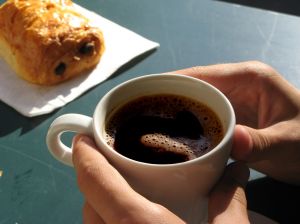 This is my New morning ritual:
Hydrate by drinking a big glass of water right after I wake up
Taking a shower while letting my morning coffe brew
Eating a healthy breakfast; oatmeal, yoghurt, fresh fruits or something similar
Doing 10 minutes of morning exercise to get the heart pumping
Doing a 15 minutes of meditation in preparation for the work day.
This ritual should not take more than an hour and will definitely start my day in a good way.
It will make me prepared to take on my daily tasks, which I intend to prepare the night before in advance. I will continue my day by working laser focused in 45-60 minutes pass.
I will take regular breaks for lunch and in between meal snacks of course.
With this morning ritual I expect to take my productivity to the next level.
I know from experience that this morning ritual works if I follow it, and therefore I'm going to challenge myself to do it every work day for the next 21 days (that's how long it will take to create a new habit). One of my goals is to have this morning ritual fully implemented by the time I get back to California in September, for the next Empower Network event.
27 Days to The Next Empower Network Event – Will I See You There?
Yes, it is Less than a month to the next Empower Network event in San Diego.
Have you got your ticket yet? Well, then it is definitely about time! It will be the Internet Marketing event of the year, with about 3,000 committed entrepreneurs.
I am going to that event. Are you?
Maybe you are not in Empower Network yet. Well, it is not a better time to get in than Now. Click here to watch the introduction video and join me and my team. I can assure you that it will be well worth it, and the tickets to the event is discounted for new Empower Network members if you purchase during your first week.
We are expecting over 3,000 Empower Network affiliates to be there.
This event will spark more 6 figure income earners then you have ever seen.
YOU my friend have a chance to be apart of that.
All you need to do is…
1.) Get In Here if you're not already in. (it's only $25 bucks)
2.) Purchase your ticket(s) inside your back office to "Fight The Forces of Evil." (discounted to new members at only $97)
3.) Enjoy the best time of your life & prepare to experience your biggest breakthrough.
Notice we're not charging you $5,000 for an event ticket?
You are stealing it at only $97… because we have a mission.
It's to create a new 6 figure income earner every 24 hours by the time of this event in San Diego on September 21st-23rd.
Right now we are already creating a new 6 figure income earner every 48 hours and well on track to hit are target above.
My question for you is… do YOU want to become apart of it?
I am also going to create something extra ordinary for the people in my team that shows up at the event. I am really hoping to see you there.
It will be well worth it. This is a picture taken from the last Empower Network event in Atlanta, where my friend and team mate Raven Starre got her $54k check on stage.

Will you be the next Star???
Be At The San Diego Event!
To your Success,
Dr Jon
skype: pilotkillen
Get in touch with me if you have questions